Since the discovery of cannabidiol or CBD, it has become people's favorite natural solution for pain. In fact, it came as a savior for many who did not find relief in pharmaceuticals. It doesn't come as a surprise considering the potential of CBD against pain. 
Science says that CBD is a pain reliever. It can calm your achy muscle or painful inflammation effectively. And thanks to the innovations, there are many ways to administer CBD for pain. Tinctures for one are considered a great option for effective pain relief. 
But, does the same apply to topicals such as balms and CBD lotion for pain? How effective are they? Well, let's take a look. 
What Are CBD Topicals?
CBD topicals are CBD-infused products that are applied topically. These products come in many varieties such as creams, lotions, sprays, etc. that are infused with a specific amount of CBD to target pain. 
Since topicals are only for external use, it's ideal for experiencing targeted relief. You can lather it on the affected area for quick relief. 
Topicals are painless and very discreet methods. These are generally non-intoxicating too. 
What Does Science Say?
At the moment, there are a lot of animal studies that connect CBD with pain relief. Some of the most promising results from using CBD topicals are associated with transdermal topicals. 
For instance, a study conducted in 2015 involved using transdermal CBD on rats with arthritis. The conclusion was that CBD effectively reduced pain behaviors and inflammation in rats. 
Some studies also conclude that the results of using CBD for pain varied from being equivalent to using placebos to being highly effective. More specifically, CBD was even seen to be 30% more effective among patients suffering from Fibromyalgia. 
CBD works in more ways than one. By direct and indirect interaction with the body functions such as the endocannabinoid system and other important receptors, CBD is able to alleviate pain by reducing inflammation and promoting calmness. 
There's still a long way to go in terms of studying the pain-relieving effect of CBD on humans. However, based on the current anecdotal as well as scientific data and research, CBD can be deemed beneficial in providing therapeutic relief to people suffering from mild to chronic pain. 
Now, here's a list of CBD topicals that you can choose from to begin your pain treatment. 
Types of CBD Topicals
CBD topicals come in different forms and formulations to provide different options for relief to people. If you are looking for a pain relief topical CBD product, choose from the following: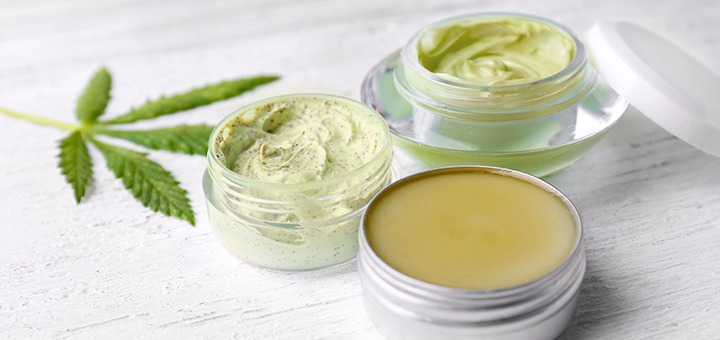 CBD Patch
CBD patches are like single-use, stick-ons infused with CBD. They are used by sticking the patch on a venous area such as the wrist, lower abdomen, lower back, etc. The CBD from the patch slowly enters your bloodstream transdermally or through the skin to deliver the effects you desire. 
The patches don't diffuse the CBD in the body at once. It is delivered to your body over a period of time so you can experience the effects throughout the day. 
Each patch is infused with a specific dose of CBD so you can choose from a wide range of concentrations. Using transdermal CBD patches with a tincture or edibles can be more effective for severe pain conditions.  
CBD Lotion for Pain
Lotions are one of the most common forms of topical products. If you are interested in experiencing the benefits of CBD, try starting with CBD-infused lotion for pain. 
There are no special instructions for using CBD lotions. All you have to do is lather the concoction on the painful area and wait for a few minutes for the effects to develop. 
Unlike a patch, a lotion is only ideal for targeted relief. So, you'll be able to experience the effects only on the area of application. 
Many brands such as CBD Living, cbdMD and Bolt CBD are taking over the market with CBD lotions available in different concentrations. 
CBD Sprays
To make it even easier for the people to administer CBD, the sprays came into the picture. It's one of the easiest and most convenient ways to use CBD topically. All you have to do is aim and spritz. 
Again, these products are ideal for topical use and targeted relief only. There are CBD sprays that are meant for sublingual use too. Make sure to read the instructions before using a spray. 
The CBD concentration of each spray is specific like any other topical. But, since the topical application does not cause a risk of intoxication, you don't have to worry about an overdose. 
CBD Balms
A CBD balm is a topical product that contains CBD oil. It is available in the form of roll-on sticks or in containers. Unlike creams, balms do not contain water. Instead, you may find ingredients like shea butter, beeswax, oils, etc. 
Balms are ideal for gentle massaging into the affected area. When combined with the physical action of massaging, the CBD absorbs into the skin better and provides more effective pain relief. 
Related: How to Find the Best CBD Oil For Pain?
Conclusion
While CBD topicals work amazingly for muscle pain and body aches, you must consider getting professional guidance before relying on CBD topicals for severe pain. It can help you have a better experience.
If you are convinced to try CBD topicals for pain, make sure to choose one that's made with high-quality ingredients especially CBD. 
CBD products are not FDA regulated which is why it is up to the consumer to be aware of their choice. Go for brands that are transparent with their production process and offer a Certificate of Analysis.