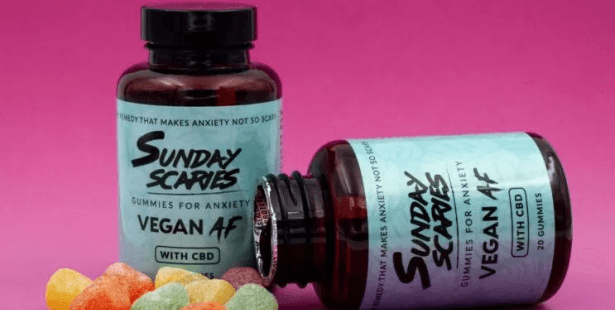 It provides ultimate relaxation. It helps in treating chronic pain and managing symptoms of anxiety, depression, epilepsy, etc. One thing more, it doesn't cause any high effects. Yes, you get it right. I'm talking about CBD (Cannabidiol). If you are considering it for chronic pain management, you can find a wide range of CBD products in the market. In this post, we are going to talk about the best CBD gummies for pain relief.
Sunday Scaries
We just simply love this brand and to be very honest the guys who own this company happen to be our neighbors so there is that as well. But nepotism aside this is a kick-ass product and we think you will all agree, shoot they even have something called Unicorn Jerky how can you not love that.
The CBD Gummies with Vitamins 20 is what we love most and what we want to highlight here. As they claim on the website "Our gummies are perfect for… Accepting your questionable weekend decisions Handling your micromanaging boss Dealing with a crying baby on a plane Saying 'whatever' to a parking ticket Realizing not everyone is vacationing all the time on social media" -Sunday Scaries
https://sundayscaries.com/cbd-gummies/
Nature's Script High Potency CBD Gummies
This product can help you relax, manage stress & anxiety levels and relieve pain. Reviews of the gummies are satisfied. The bottle comes in a 60-count gummies with each gummy has 25 mg of Hemp Extract. The products are tested by independent labs and contain less than 0.3 percent THC. Hemp Extract has amazing therapeutic properties, which can help in boosting mood, promoting sleep and managing symptoms of pain.
https://naturesscript.com/product/cbd-gummies/
Fab CBD
These all-natural, non-GMO gummies are made from CBD isolate obtained from the hemp. It also has some organic terpenes, which deliver ultimate relaxing effects. Each gummy contains 25mg of CBD and can deliver moderate to strong effects. In each container, you get 30 capsules. Fab CBD gummies can help patients get relief from muscle soreness, inflammation, and chronic pain. However, some consumers report that the gummies help in treating arthritis-related pain.he
The gummies are tested by Pro Verde Laboratories for 0.3 percent THC and are available in all areas of the United States.
https://fabcbd.com/products/cbd-chews/
Intrinsic Hemp CBD Gummies
These gummies deliver ultimate relief for persistent pain. They have medium potency and are good for daily use. Many consumers say that Intrinsic Hemp CBD Gummies are effective in managing arthritis and fibromyalgia-related pain. The container comes with 30 pieces with each piece containing 20mg CBD. Unlike prescription medications such as Prozac, these gummies provide non-addictive relief.
https://intrinsichemp.com/cbd-gummies/
Diamond CBD Chill Plus Gummies
These are made from organic industrial hemp and are available in a variety of flavors and forms. In each gummy, you will get 200mg CBD, which gives you amazing relief from chronic pain and boost your activity levels. Each packet contains about 12-14 gummies with no toxins. Remember, these gummies are manufactured in a facility, which makes products that may have wheat, gluten, egg, and dairy products.
https://www.diamondcbd.com/collections/chill-plus-gummies
Sensei CBD Gummies
They come in 20-50 packs with each gummy containing 20 mg CBD isolate. They are sourced from hemp grown in Kentucky family farms. Sensei CBD gummies have natural, non-GMO ingredients, and are effective in chronic pain management.
https://senseicbdoil.com/cbd-gummies
In conclusion, CBD is proven beneficial in managing symptoms of chronic pain, anxiety, depression, and many other conditions. When buying CBD gummies for pain, make sure you check CBD and THC content. Choose a reputed brand, which provides high-quality CBD products. There's a wide range of companies, which sell low-quality products, and even some fail drug tests and their CBD gummies contain more than 0.3 percent THC. So, always do comprehensive research, and get the best products that can help you manage your symptoms effectively. It's good to talk to a licensed doctor to suggest the right CBD products for your condition.
During the corona outbreak, we advise everyone to stay home and stay healthy. Let's support the government and doctors to fight against COVID-19.