CBD has many health benefits, thus more patients with various medical conditions are preferring it over prescription medications. According to Brightfield Group, CBD sales in the United States are expected to reach $16 billion by 2026. The FDA has already approved a CBD oral solution named Epidiolex for the treatment of two forms of epilepsy, Lennox-Gastaut syndrome, and Dravet syndrome.
If you are suffering from mood disorders, pain, etc, you can use CBD oil as an effective treatment. What's the best way to take CBD oil? How much should you take? Let's learn.
Sublingual Absorption
Many consumers prefer this method. Just put a few drops under your tongue, hold it for a few seconds, and ingest. Medical studies have found that CBD provides the best results when you hold it sublingually for at least 30 seconds.
When you take CBD oil sublingually, CBD molecules diffuse into the capillaries and bloodstream instantly after passing through the thin layer of tissues under the tongue. You will experience mutual benefits of both sublingual and oral absorption.
Related- How Long Does it Take For CBD Oil to Work?
It's important to note that CBD sublingual absorption isn't a one-size-fits-all solution. Some consumers ingest CBD faster, thus most of it is absorbed through the digestive tract.
Add it to Your Favorite Drink
Some CBD oils have a pungent, earthy taste, thus most consumers prefer masking the flavor with some delicious ingredients. Adding CBD oil to your favorite drink is a great way to enjoy the therapeutic effects of cannabidiol. Mixing a few drops of CBD into a morning smoothie will help you have a great start of the day.
You can also add CBD oil to cocktails. This will give you double medicinal effects. Cocktails will provide you relaxation while CBD will provide you with sedative effects. However, you should prefer taking cocktails infused with CBD oil in the evening. This way, you can prevent its side effects, if any.
Add CBD to Coffee
Coffee is a popular beverage, which releases dopamine, a neurotransmitter associated with euphoria and pleasant feelings. 
CBD has amazing anti-anxiety properties. Thus, adding it to coffee will help you reduce the risks of anxiety by increasing GABA activity. Drinking coffee sometimes is linked to anxiety.
Moreover, drinking CBD-infused coffee improves mental alertness, which is controlled by adenosine and some other neurotransmitters. Caffeine attaches to receptors, thus blocking the activity of adenosine. CBD delivers its own benefits by interacting with adenosine. It is believed that it improves the efficiency of adenosine receptors.
Moreover, CBD oil may interact with serotonin in the brain. Increased serotonin activity is linked to a greater sense of well-being.
Cook With CBD Oil
Do you love making new recipes? If so, you will definitely like CBD recipes. Baking some CBD-infused edibles will help you satisfy your taste buds along with experiencing the therapeutic effects of CBD.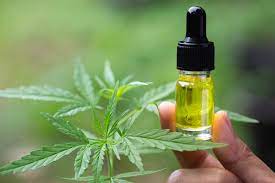 In fact, you can add CBD to any recipe provided the preparation process doesn't require baking at a high temperature. CBD-infused chocolates, cakes, cookies, etc. are quite popular among consumers. 
Some experts say that CBD works best when mixed with fat-containing foods. What's more? You can pair CBD oil with olive oil for salad dressings.

When you consume CBD in foods, you need to be patient with the effects. This is because CBD takes longer to digest, it's called the first-pass effect.
This means any digestible item reaches the bloodstream after passing through the gut and the liver.
Most importantly, be mindful of what you are taking with CBD-infused foods. Don't drive if you have consumed CBD with alcohol. If you are planning to serve CBD to your party attendees at home, tell them in advance.
How Much CBD Oil Should You Take?
Well, there's no standard dose for all. Everyone's system processes CBD differently, so optimal CBD dose may vary from consumer to consumer.
We suggest you start with a low dose, just a few drops, and see how it's working. You can begin with 5mg of CBD three times a day. Monitor the effects on your body and mind, and increase the dosage after three weeks.
Related- How Much CBD to Take For Effective Pain Relief?
Buying CBD Oils – Here's What You Should Consider
Check the cannabinoid profile- see the concentration of CBD and THC. Under the Farm Bill of 2018, hemp-derived CBD products containing less than 0.3 percent THC are legal countrywide.

Lab-tested- CBD oils aren't regulated by the FDA, so make sure you check third-party test results of whatever you are purchasing.

US-grown or not- Always prefer buying CBD oils made from US grown cannabis or hemp.

Full-spectrum or broad-spectrum- Medical studies show that THC and CBD deliver stronger effects than what they do if used alone. Full and broad-spectrum products contain organic compounds such as terpenes, which greatly impact their medicinal effects.
Covering it up, there are many ways to take CBD oil, it's hard to answer which one is right for you. Try different methods and monitor the effects with each one.
As there's a wide range of CBD oil companies out there, you should do comprehensive research to get the best products. We suggest you buy only CBD oils that are extracted from US grown cannabis and are tested by third-party labs. 
Moreover, dosing is important when using CBD oil for health benefits. Taking more than your medical needs may cause negative effects. If you are a beginner, start with a low dose and increase gradually.
Before using CBD oil, talk to your doctor, especially if you are taking any medications. CBD may interact with antidepressants, antibiotics, etc.